Abrar returns to Saudi Arabia with the aim to open a centre for eating disorders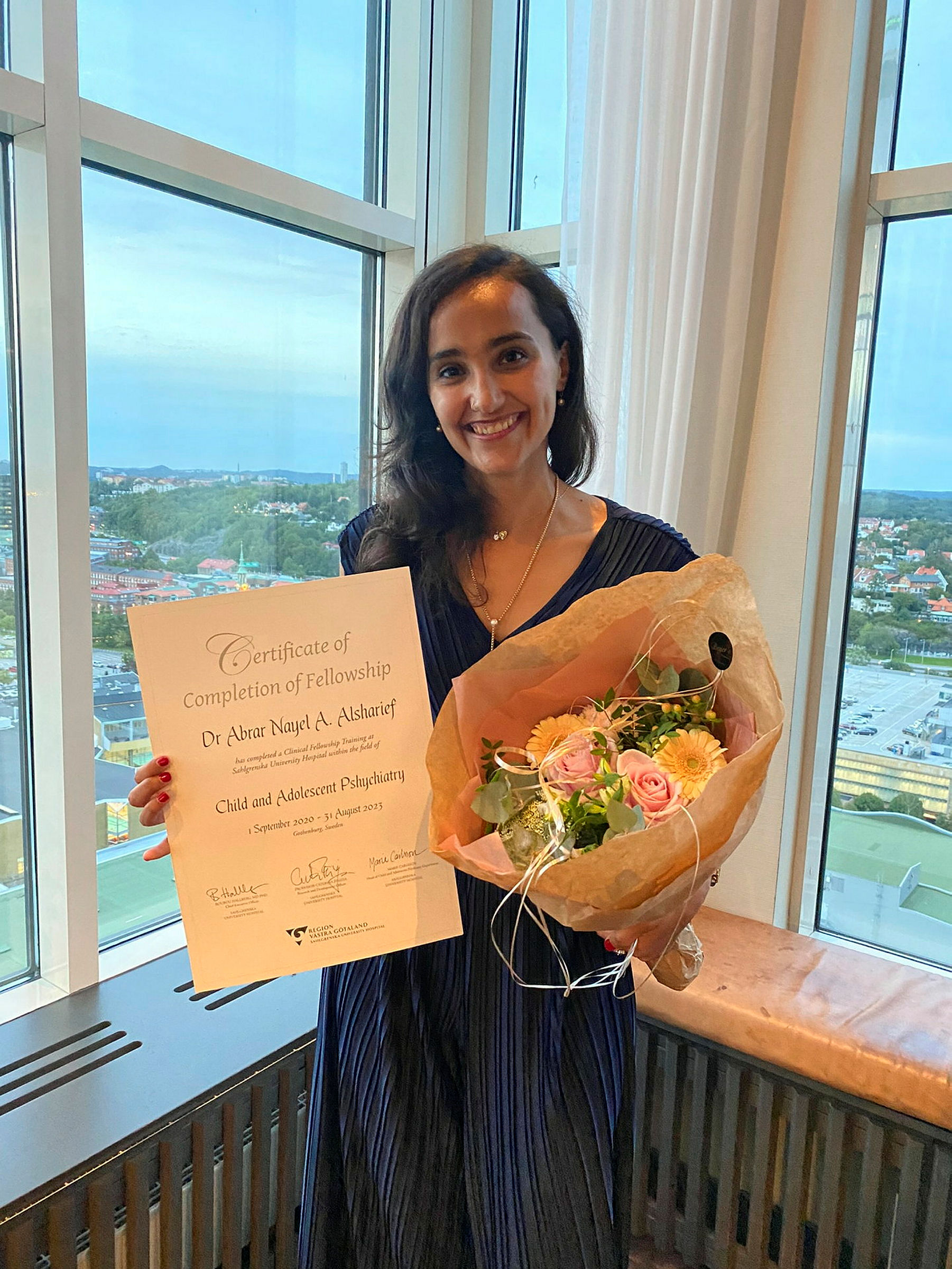 After eight years at Sahlgrenska University Hospital, specialist doctor Abrar Alsharief is now returning to her hometown of Jeddah in Saudi Arabia. With a double specialization in her luggage, she becomes the first child psychiatrist at her hospital. The dream is to be able to open a centre to help children and young people with eating disorders.
Abrar Alsharief came to Sweden in 2015 and began specialist training at Sahlgrenska University Hospital within the Specialist Medical Training Program, which is aimed at international students.
- I received a scholarship to come here and completed a five-year specialist training in paediatric medicine. Now eight years have passed and I also have a specialization in child and adolescent psychiatry, she says.
How come?
When I did my specialization in paediatric medicine, I did a rotation in child and adolescent psychiatry. I thought at first that I would only do my three months there, and didn't know much about that area. I probably didn't think you could understand people's diagnoses just by talking to them. But then it was so unexpectedly fun and interesting, so I applied for and received another scholarship.
Desired competence
After completing her residency at Sahlgrenska University Hospital, it is now time for Abrar Alsharief to travel home again. Now a position awaits as a senior physician in paediatric medicine at the University Hospital in Jeddah, and with a specialist training in child and adolescent psychiatry, her skills are sought after.
- Adult psychiatry exists, but child and adolescent psychiatrists are rare. When I come home now, I know that my employer wants to use my skills in the best possible way. Child and adolescent psychiatric care in Saudi Arabia is not that developed, but a lot is happening there now and there have really been changes just in the years I have been in Sweden.
One of the tracks that made an extra impression is the placement Abrar Alsharief had in eating disorder care at Sahlgrenska University Hospital. Eating disorders is a subject that is not talked about much in Saudi Arabia, she says, and it is something she would like to work on further.
- It is very interesting with the complexity surrounding these patients. They may have depression, anxiety and other diagnoses and it is incredibly important to see the whole picture. Each patient has a personal treatment plan and as a team we have worked so well together, she says.
How do you want to work further with these questions at your home hospital?
- My dream is to open an eating disorder center with research and treatment.
The article was originally published in Swedish on Sahlgrenskaliv, the hospital's digital magazine.  
---
Updated: 2023-09-05 17:18
---