First in Scandinavia with a new type of robot-assisted surgery for lung cancer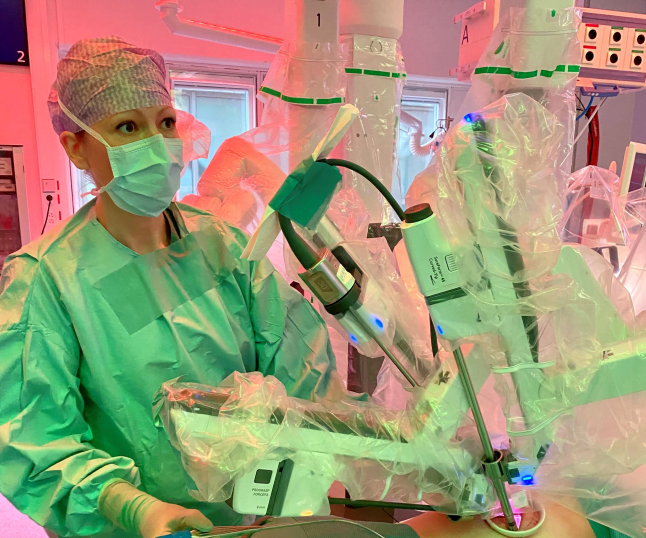 Sahlgrenska University Hospital is the first in Scandinavia to have carried out a robot-assisted keyhole surgery for lung cancer where the robot enters through only one surgical wound. Faster operating time, healing time and reduced pain for the patient are some of the advantages of the new robot-assisted surgical method.
- We are very proud that we have managed to implement robotic surgery and pushed this through in a safe and efficient way, says chief physician and thoracic surgeon Andreas Westerlind, who was involved in carrying out the first operation.
Operating on lung cancer patients with assisted robotic surgery has been done before. To date, Sahlgrenska University Hospital has carried out approximately 50 robot-assisted operations. Through international knowledge exchange, surgeons at Sahlgrenska University Hospital have now developed the method further at home. Now the robot has the opportunity to operate through only one entrance to remove all or parts of the cancerous lung, so-called uniportal robot-assisted lobectomy. The opening between the patient's ribs then becomes slightly larger as both a camera arm and two instrument arms must be accommodated in the same keyhole. The surgical wound is still only about five centimeters long.
- For the patient, this is very good and a big improvement from before. The robot moves very little and reduces the risk of, for example, fracture injuries to the ribs. Instead of several wounds, there will be only one, which is both cosmetically better and means less pain. This method also opens up the possibility of operating on seriously ill patients, says Andreas Westerlind.
In addition to several benefits for the patient, this also means reduced operating time and cost savings for Sahlgrenska University Hospital. Through this method, less disposable material is used, such as carbon dioxide. And setting up the robot is very fast compared to the previous method.
- Robots are part of the future of healthcare. In the long run, this could mean shorter treatment times and that more patients can be operated on more quickly, he says.
- It is an impressive job that the staff has done in taking robotic lung surgery from an introduction project to a standard procedure with high medical quality and safety in just over a year. It's a lot of fun to take the technology one step further, says Richard Zätterman, Head of Department of Thoracic Surgery.
Lung cancer care at Sahlgrenska University Hospital
Each year, around 4,000 people in Sweden are diagnosed with lung cancer. Most patients are between 60 and 80 years old. Lung cancer is the sixth most common form of cancer among men and the fourth most common among women.
All cancer care at Sahlgrenska University Hospital is gathered in the Sahlgrenska Comprehensive Cancer Centre. Being an accredited Comprehensive Cancer Center means that Sahlgrenska University Hospital meets European quality standards in terms of treatment, prevention, diagnosis, treatment, rehabilitation as well as research, teaching and training. The goal is to collaborate with the highest possible clinical competence and with research at the forefront to be able to provide patients with the best possible care.
The article was originally published in October 2022 at Sahlgrenskaliv.