Thai view of Swedish healthcare
More time with each patient and teamwork without hierarchy. For the first incoming resident within the new hospital-wide agreement for residency exchanges with Thailand, virtually everything is different with the Swedish healthcare system. Apart from diagnoses, which are universal.
When 30-year-old Dr. Toon looked through the list of partner hospitals for exchanges at his home hospital Ramathibodi in Bangkok, Thailand, Sahlgrenska University Hospital became his first choice. Much because the knowledge of the healthcare system in the Nordics is limited in Thailand.
He applied, got admitted and a few months later he was on his way to Gothenburg. Despite the fact that he had never been to Sweden before, a clear picture was painted in his head before departure. A beautiful country, small population, interesting architecture and infrastructure as well as good climate and weather. But how was it in reality?
- What struck me the most was the team-based way of working. The chief physician and the resident were colleagues in the same team. It was even so that a doctor who is your superior can ask you if you want coffee when he goes to collect for himself. That would never happen in Thailand.
Heart rhythm disorders are treated in different ways
Virtually everything felt different. The system, the way of working and treatments. The diagnoses and conditions, on the other hand, are universal. However, treatment protocols may differ.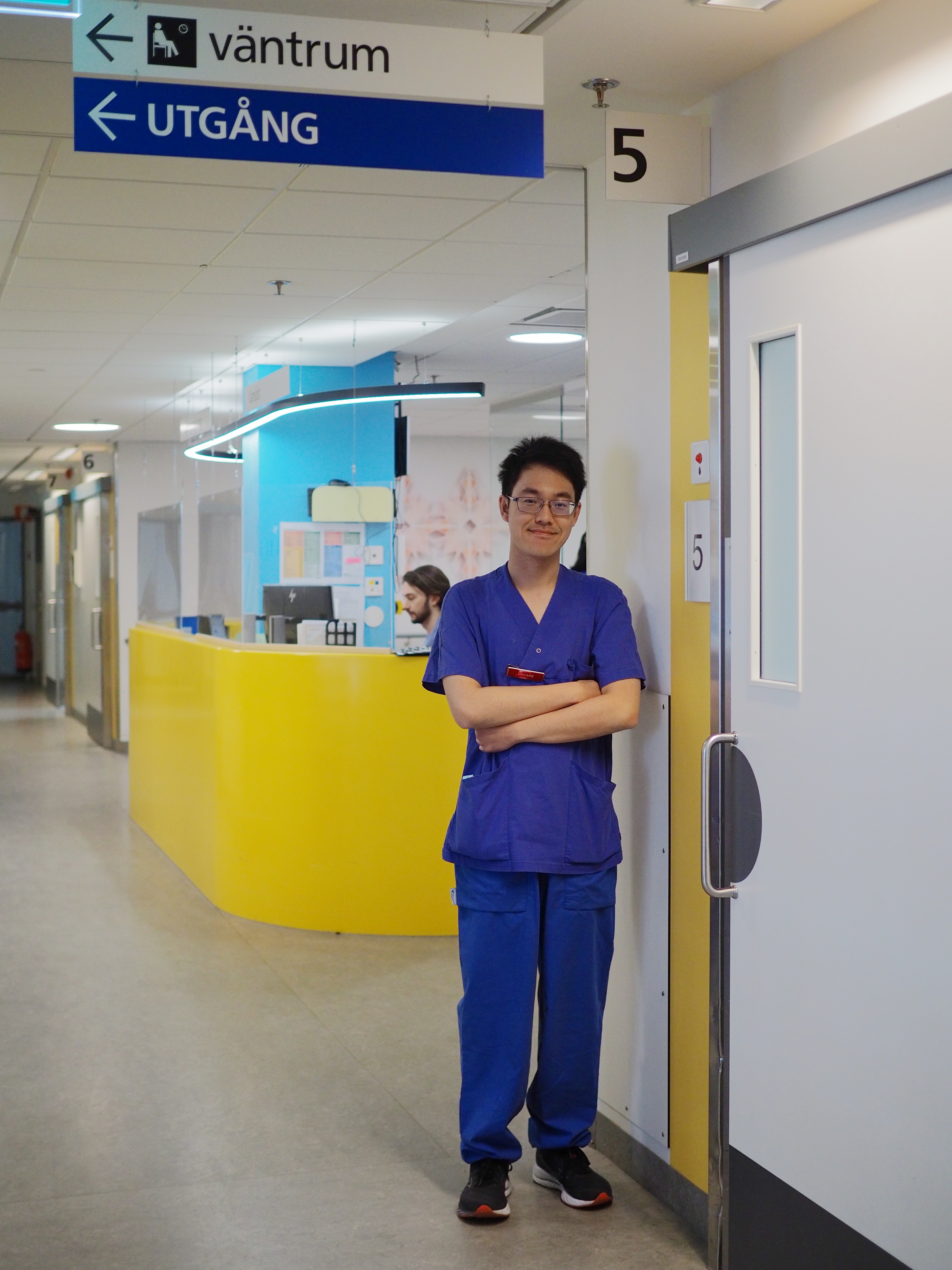 - One example I noted is patients with heart rhythm disorders. In Thailand, medication is the most common treatment. But here I have seen that defibrillators or cardioversion are often used. Doctors have explained to me why they choose one or the other. That's something I really take with me.
Healthcare systems differ everywhere in the world. There is no one size fits all, but a system must be adapted to local conditions. Thailand is a much more densely populated country than Sweden, which means that doctors in each country are exposed to different environments.
Swedish doctors spend more time with each patient. From what I've seen, at least 10 min per patient. In Thailand, we have a lot of patients, so a doctor often spends a maximum of 5 minutes per patient. I think it is better to have more time with the patient. Patients feel better when they feel they are receiving attention from their doctor.
Want to implement prehospital care
- But personally, I don't think you can say that one hospital is better than the other. It's just completely different environments that sometimes require different ways of working and even different treatments.
A few weeks is a limited period and even if Toon had wished he was here a little longer, he already knows what he wants to try to implement in the healthcare at home.
- Prehospital care! We need to get better at that. I had the opportunity to accompany a "akutläkarbil", which is a so called mobile emergency doctor one day. It is a win-win for both patients and hospitals, when patients who can, stay at home and receive care there.


Now Toon is looking towards Mount Sinai in Toronto and the Tufts Medical Center in Boston, where he will spend a few weeks at the department of microbiology and infectious diseases respectively. How do these three countries' healthcare differ? He has promised to contact Charlotte Sjöberg Larsson (to the right), International Program Director, at Sahlgrenska University Hospital, and Erika Nettelbladt (to the left), Education Manager at Sahlgrenska International Care, afterwards and share his thoughts.
Facts
It is the first time that Sahlgrenska University Hospital has signed a hospital-wide agreement for bilateral exchanges for residency doctors. The choice fell on Mahidol University in Bangkok, Thailand, that the University of Gothenburg has had an ongoing collaboration with since 2017.
Erik Andersson, resident in emergency care at Östra sjukhuset, did a four-week auscultation period in Bangkok in January.
At the end of April, Chutchaiwat Savetamornkul, Dr. Toon, resident in internal medicine, came to Gothenburg for an observership for two weeks with the main placement within emergency care/internal medicine/prehospital care at Östra Sjukhuset.
If you are a resident interested in traveling abroad or welcoming residents from abroad, please contact Charlotte Sjöberg Larsson, director of international studies, Sahlgrenska University Hospital.
---
Updated: 2023-05-31 14:37
---